Welcome Back Banner
This Banner is three and a half sheets.

Welcome Back to School
A large colorful banner. (five sheets)
Welcome Sign with Large 8.5x11 Individual Letters.
W ELC O ME
Download and print each letter on card stock.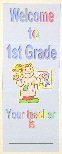 Welcome to Kindergarten Vertical Banner
Just print and trim top edges of pages
2 and 3.
Banners for other grades below.Banners are around 27 in. tall.
1st
2nd
3rd
4th
5th
Classroom Rules
Print classroom rules on one sheetorfour sheets.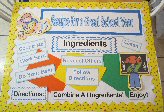 Recipe for a Great School Year
Download each file and back with colored paper or card stock.
File 1File 2File 3 File 4File 5File 6File 7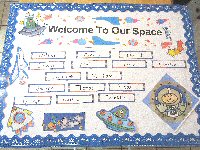 Welcome to Our Space - Space Theme bulletin boardPrint the banner file.Welcome to Our Space banner.The following files are also needed.AstronautName Plates and Aliens in SpaceshipRocketAlien in Spacecraft and AstronautandSpace clipart(clip art by
Philip Martin)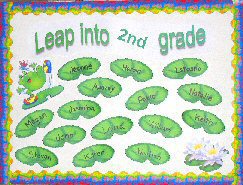 Leap Into __ Grade. Download five files.
FrogBanner Lily Pads Grade Levels 1-4 Water Lilies Small Frogs(for lily pads)Frog Incentive ChartsName TagsFrog Labels


All Stars Bulletin Board
Use this board for a variety of purposes.
Four files to download. allstars1 allstars2 allstars3 allstars4
Spelling Stars Banner
Use this banner with the stars above for
a board to show spelling goals that have
been reached.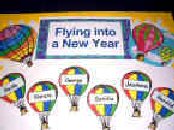 Flying into a New School Year (banner) orSoaring in a New School Year(banner) Make a bulletin board with hot air balloons or airplanes. Print Large Balloons (for top)1 2 34
Small Balloons orAirplanes for students names
Small Balloons in black and whitefor students
to color.
Hot Air Balloon Name tagsPrint on shipping labels.

Welcome to our School(banner)Students can colorThese Fish. Suggestion - run on different colors of cardstock and have children coior with markers for a bright colored bulletin board. Use blue background paper and sand colored paper at the bottom. Add moreSea Creatures.You also may want to use theseFish Tank Reward Charts.
More colorful fish can be downloaded fromPhillip Martins clip art.
Welcome to Our Hive Door Decoration or Bulletin Board
Print outLarge Bees,Nameplates, andBanner. EnlargeHive Patternor print outLarge Hive(9 sheets). If using for a door,
cut as in this examplehere.Some words
to add to door are here. SomeBee
name tags are here.
Look Who is Popping Into Our Class Banner
Popcorn MachineName Plates
Box of Popcorn
Bowl of Popcorn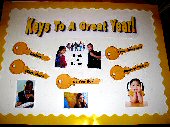 Keys To A Great Year Bulletin Board BannerPrint the following keysListen, Work HardRespect Others, Follow DirectionsDo Your Best Back to School PicturePut other pictures of children listening, working.etc.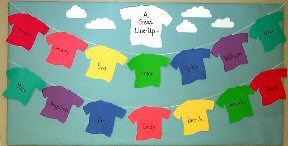 A Great Line-Up Bulletin BoardLarge T-ShirtorSmall T- Shirt.
Use a blue background and string a clothesline between trees. Write the students names on shirts.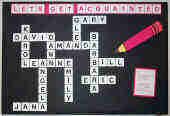 Let's Get Acquainted (A Crossword Puzzle Board) You could put the students names into aCrossword Puzzle Makerthen run off enough squaresfor all of the names. Lay out the squares in the shape of your
puzzle and tape them together on the back.
You could have a clue sheet telling something about each person.

Welcome Back Puzzle Board I love this colorful bulletin board made by Susan Griffes.You could use this24 Piece Template. Simply add an
extra row or two if you have more
students. Cut the shapes from bright colored
card stock. Then use this bannerWelcome Back You Fit Right Infor the heading.
Kindergarten - Our Garden of ChildrenUse this banner to make
a kindergarten bulletin board. Print offThese Yellow Flowers (three to a page). Take a
digital picture of each child and place in
the center of each flower.Pink Flowers
are here.
Ode To Fifth Grade This clever board was
made by Susan Latino. The student's names are
on the beginning notes of "Ode To Joy".
The students are given a quiz sheet on
the first day of school with several
questions about the board.
Bulletin Boards, Halls, Walls, and Door Decorating Ideas
This site is from Garden of Praise. There
are many boards here with photos. The boards
are separated by grade level.

Check theBulletin Board Index Pagefor more bulletin boards and room decoration.